The NSERC CREATE Program in Distributed Generation for Remote Communities (DGRC) is the first program in Canada to train personnel to integrate clean energy technologies into distributed generation systems that work in the remote settings of Canada. Through partnerships with community, institutional, and industry stakeholders, we will provide trainees with a diverse research and training program that is internationally unique and launch them into successful careers in the energy sector.
The program is open to students at all levels, under supervision of DGRC faculty members.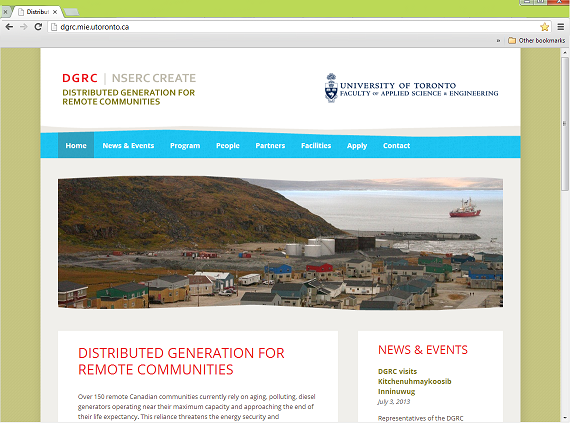 *Call for M.Eng. students*
The DGRC program invites interested M.Eng students to consider M.Eng. projects under the supervision of DGRC faculty members.
The program offers a unique setting for research projects with the opportunity to make an impact on remote, northern communities.
DGRC trainees are provided the opportunity to participate in DGRC workshops and other professional training opportunities, with the added possibility of travel to northern communities.
An M.Eng. project may be completed in lieu of three half-courses. Students working on a project must register in the program continuously. It is up to the student to approach professors with whom they would like to work on a project; professors are not obliged to supervise a project. Upon completion of a project, the student submits an M.Eng. project report to his/her faculty advisor, who grades the report.
More information: https://dgrc.mie.utoronto.ca/