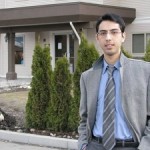 Research area:
Carbon management, Computational sustainability
Degree: Doctoral Student
Department: Mechanical & Industrial Engineering
Supervisor: Professor Aimy Bazylak
Details:
Modelling transport and reactivity of injected supercritical carbon dioxide within deep saline aquifers The goal of this research is to develop a 3D multiphase lattice-Boltzmann model of reactive flow in porous media capable of predicting pore-scale velocity distributions and concentration gradients. The results from this model will complement concurrent pore-network modelling simulations and porous-media microfluidic experiments of reactive flow in porous media within our research group. The porous structures that will be modelled include: structured, stochastic and reconstructed domains. The simulations will be parallelized for high-performance computation, so they can be performed efficiently on a distributed platform.
Contact Information