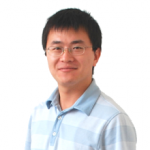 Research area:
Carbon management
Degree: Doctoral Student
Department: Mechanical & Industrial Engineering
Supervisor: Professor David Sinton
Details:
Distributed All-Optical CO2 Sensing for Field-Scale Subsurface Carbon Management Carbon sequestration is considered to be a promising approach to reduce greenhouse gas emission in a large scale. Monitoring CO2 stored subsurface is crucial to secure this process. My research is to develop and test an optical sensor to detect and measure subsurface carbon dioxide in hopes of better understanding the mechanism of the interface between the sensor and sampled fluids. The ultimate goal of this research is to provide an effective sensing system for monitoring subsurface carbon dioxide. Such a tool would help to validate carbon sequestration as a safe and effective technology for reduction of greenhouse gas emission.
Contact Information