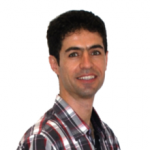 Research area:
Carbon management
Degree: Postdoctoral Researcher
Department: Mechanical & Industrial Engineering
Supervisor: Professor David Sinton
Details:
Carbon management: CO2 enhanced oil recovery I have a background in Chemical engineering and Reservoir Geosciences and Engineering. My research interest is in enhanced oil recovery (EOR) and more specifically in thermal EOR and CO2 injection. My current work is on CO2 geological storage by studying transport in heavy oil carbonate reservoirs and aquifers using microfluidics methods. This method enables one to visualize and quantify, at pore scale, the interactions of CO2 with reservoir fluids/formation and address the displacement mechanisms. Glass and polymer based micro-chips (micromodels) are used in these studies. The project is funded by Carbon Management Canada (CMC) as part of the attempt to reduce the CO2 emission.
Contact Information