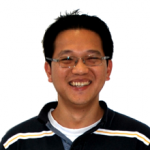 Research area:
Carbon management
Degree: Doctoral Student
Department: Mechanical & Industrial Engineering
Supervisor: Professor David Sinton
Details:
My research interest is in the area of sustainable energy development. I completed my master's research in studying the fluid transport and electrochemical reaction kinetics in PEM fuel cells. My current research is on carbon management technology where I am applying microfluidic technology to characterize the injection of supercritical CO2 in carbonate porous media using a high pressure, high temperature micro-reactor. The aim of this research is to advance knowledge in carbon sequestration processes in geological formations.
Contact Information
phongt.nguyen@mail.utoronto.ca |