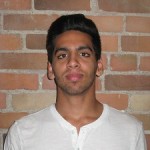 Research area:
Alternative fuels, Electricity generation systems
Degree: Masters Student
Department: Mechanical & Industrial Engineering
Supervisor: Professor Jim Wallace
Details:
ORC Power Generation From Waste Heat in Remote Communities My current research consists of both studying biomass energy use in remote communities as well as thermodynamic modeling of Organic Rankine Cycle (ORC) power systems that would improve the overall energy use efficiency and reduce the need for high emission diesel generators. The focus of the energy utilization studies is on identifying existing sources of waste heat that utilize biomass fuels and retrofitting them with ORC power generation units. Multiple ORC units in a remote community would in effect create a miniature distributed generation system.
Contact Information